Heeeeee~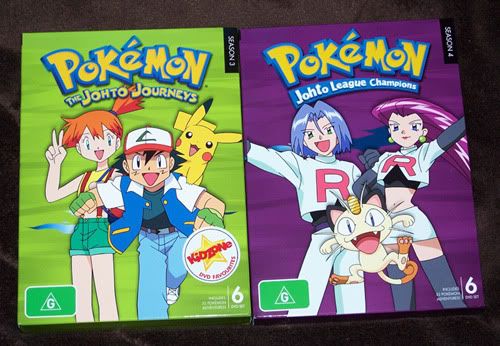 So many thanks to
tortoises for getting these for me! I was missing these seasons from my DVD collection for the longest time, but now I have them 8D Also, thanks to a programe Sui gave me last night, I now don't have to worry about changing regions on my computer, which is awesome, because my Pokémon DVDs now span 3 regions XD (Region 1, 2 and 4).

Now just gotta wait for United Publications to send out my Arceus movie DVD and I'll be all caught up until March, when the first Galactic Battle box set comes out :)

I do wish some post people wouldn't try and bolt as soon as they could though. Seriously, they only waited enough time for me to get downstairs, which didn't take me long and was walking away by the time I got to the door! My usual post lady waits because she knows that if I'm in, I'll answer the damn door (And that I get a lot of parcels haha XD) But this guy, argh!