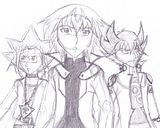 Click for a much bigger version!

Wheee, sort-of 10th anniversary movie drawing...thing! I kinda wanted to do destroyed buildings in the background with Paradox glaring over them, but then I realized I couldn't draw destroyed buildings... hell I can't draw non-destroyed buildings.
Not sure if I'll colour this or not, I drew it mostly because I wanted to draw something with all three of them and... I really miss drawing, I need to do more drawing ;o; I dunno where my drive for drawing has gone, I want to make pretty pictures.

Aaand I have work tomorrow so I guess I really should go and sleep or something!