(Click on pics for a bigger version!)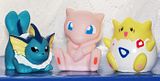 Isn't that just the cutest Mew figure ever?
I had a feeling these would come today 8D Heee, kids figures are awesome~

I've been feeling so distracted lately. Mostly due to work I think. I haven't played much on Platinum and I haven't been getting back to egg clicks recently, but hopefully in these next few days I will x-x

I've pretty much finished my Gizamimi Pichu ears!!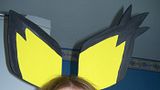 I think I just need to put a bit more paint onto the notch-ear and they're pretty much done.
Luckily I found a yellow shirt I had completely forgotten about in my wardrobe!! Now just to find some trousers to go with it, also some black material for the black neck fur.
I'm really excited about this outfit! XD