OH HELL 5D'S



Gotta admit, the dueling parts wee a bit boring to me, but that might be because of the low quality of the episode I watched, BUT THE FLASHBACKS WERE SO AWESOME.
The ending scene, so dramatic, with the rain and the dramatic storm and the silent yelling and Kiryu apparently covered in blood and MURDER dfhgfhsgfdshgh 5D's you're so awesome.
I'd love to see how 4Kids handle this one. I imagine SNIP SNIP SNIPPTY SNIP, AIRBRUSH OUT ANY BLOOD OH MY GOD REPLACE EVERYTHING WITH PUPPIES AND RAINBOWS AND THEM SKIPPING THROUGH SATELLITE HOLDING HANDS AND EVERYTHING IS HAPPY!
....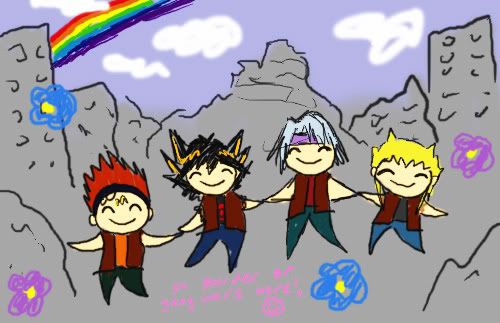 Only we all know it ended more like this!




I apparently need to learn how to draw Kiryu!

I liked the bit where that gang leader almost made Yuusei fall to his death! Kiryu saved him despite the fact that Yuusei seemed to all in "saaave yourseeelf" mode, cos Kiryu was almost going over the edge of the building, but the pulled him up and then Jack burst though the door and kick the crap out of the gang leader in one swoop.
THEN THEY ALL STOOD AROUND LAUGHING LIKE IDIOTS I LOVE YOU GUYS!

I'm looking forward to seeing more of the murder flashback to see what's up with that O_O

Also, WIP arty piece!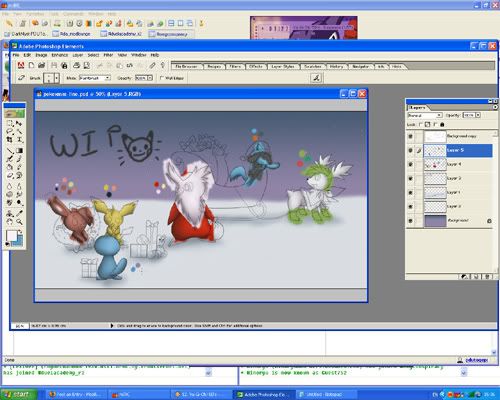 Heee, christmaaaaas~