First of all, thanks to everyone who wished me a happy birthday yesterday! I had a rather relaxing day. Went out to dinner with some friends, then spent the rest of the day being geeky as usual 8D

I got a really cute animal mug and coaster set off my friend, Helen, plus a chocolate Lollipop XD; I also got £100 off my mum that's gonna go towards getting a Wii~
I also received a very awesome profile banner from
razzberridust, as well as pictures drawn for me from
koyuki_azumaya and
syntheticpoetic

I actually updated the art gift wall in my room too, I haven't done so in years even though I've meant too everytime someone drew me something.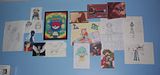 Picture of the entire wall. All the pics there are rather old, I think the oldest dates back to like 2000/2001 which is the picture to the far left. A really old birthday picture drawn by someone called Nadia who ran a Team Rocket website. The rest of the pics are from then until about...2005? 2006? (*Not counting the two new ones*) Also the framed Pokémon poster I got from the charity shop a while back 8D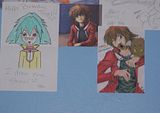 Close up of the two newest pictures. Shou by
koyuki_azumaya and Juudai and Hane Kuriboh by
syntheticpoetic :D

I need to go through my faves on dA and print off the other stuff I wanted to put up there. I also need to update my dA ID, I also have picture ideas I wanna do, I also have my bedroom to clean ;o;

Also...I hate shifts that start in the morning...or shifts that start early enough that I have to eat breakfast...I rarely eat breakfast |<

Least I'm off tomorrow...I should spend that cleaning my room I think.