I think these two comics pretty much sum up today: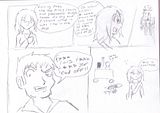 So yeah, since I was heading into town for a Dentist appointment anyway, I decided to go to the Priory Church and Gatehouse to take some more pictures. In the process of taking pictures of the Gatehouse, some guy snarked at me, thinking I was a tourist. Yes because apparently only tourists like taking photos of pretty old buildings, no one who lives in the actual town will EVER do that. Then, on my way home there was this couple who were riding a horse drawn cart down the road. I really liked the sight of it, you don't see it everyday, where as back in the old times it would of been a sort of common thing to see.
So as I walked in my happy "Awwww, that's awesome" mood, the guy riding in the cart starts...cursing absolute blue murder at the cars passing by the opposite way.
...Oh Worksop.

ANYWAY, I did take some cool photos today! All of which can be found in this photobucket album:
http://smg.photobucket.com/albums/v142/PDUTogepi/Art%20Stuff/Photos/16th%20April%202008/

My favourite picture is most definitely this one: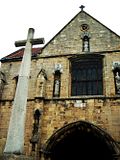 This version of the photo was messed around with in photoshop, just put an overlay on it, makes it look brighter than the original picture~! I love how it looks though :3

I might go through all my old photos and make a collection on my site for them.