It's...probably bad that when I came to save my Pokémon Pearl game, I noticed I've spent 666 hours on it.

ANYWAY! Not the reason for the post, no, no~ THESE are the reason for my post!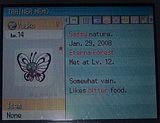 Meet Yuuko, Chou and Mari, the shiny Butterfree sisters :D

Gwah, so I woke up at about 5:30am this morning and couldn't get back to sleep, so I decided I go try and chain something. I decided on Metapod since a shiny Butterfree is one of the shinies I most wanted and I caught three shiny Metapods in total!! Yeah, I decided to evolve all three of them straight away, since shiny Butterfrees are...more interesting in colour! XD
I've been looking for a Pokémon to name Yuuko, after the character in xxxHOLiC, was gonna train a Misdreavous with that name, but since butterflies are one of the icons of the show and of Yuuko herself, I felt a Butterfree would also be suitable, a shiny one at that~! She's the one I'm keeping since I caught her first, Chou and Mari have been put into my shiny trade box.

Talking of xxxHOLiC, I finished the first season a few days ago, gwah episodes 22 and 23 were just so... ;~~; Poor Watanuki. Just need to find/watch the movie and then await the second season :D I was gonna buy some of the manga off amazon.co.uk, but a lot of the early volumes are only being sold on there as used ones only X__X Hummm, maybe I'll go to the Forbidden Planet in Nottingham sometime soon and see if they have it.