O_____________O



Damn, we're getting into the thick of things now....
...best thing about this episode was the amount of shifting emotions I was going through "HAHAHA! FUNNY! OMG! NOOOO! ;___; FUNNY! HAHAHA! ....NOOOOO!!!!! ;____; ....Meep!" yes, I actually said "meep!" at the end XDD;;

....Daitokuchi-sensei is teh evil ;_______;

Ah nothing like Juudai being all angsty-faced <3333 Chronos takes over the alchemy class and seems to mention some mark, the fact that it's a circle and it's related to alchemy just amuses me, actually the circle reminds me more of a very VERY simplified orobouros tattoo, ya know, the symbol on the homunculus of the red dragon eating it's own tail. Or maybe I'm just being my usual stupid self :D
Anyway the most important thing is that chronos manages to make an explosion and has part of his experiment leave a mark on his forehead :3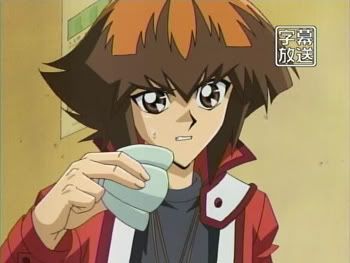 "...who's been eating my porridge...?"
"Cough up the porridge, Manjoumelocks!!"
BEST JUUDAI ANGSTY FACE EVER!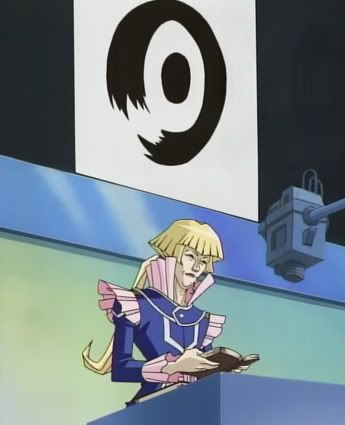 "This is a circle....I don't know what it does..."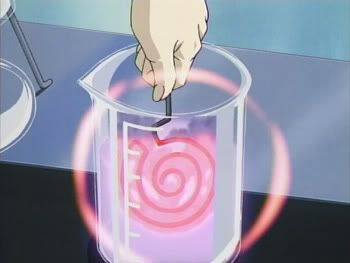 Glowing red is never a good sign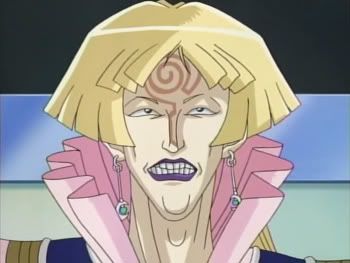 :D :D :D

Anyway the whole gang of the key keepers (*minus cat guy*) are called into the principle's office, then later on in the episode Juudai, Shou, Hayato and Manjoume are snooping around Daitokuchi's room. I liked the whole "Tome-san is a member of the seven stars" thing HA! Shou manages to find a map and it has the same mark on part of it that Chronos showed in his class :o So the group head off to the forest!
While in the forest...Shou shows his true artistic skills by....
....drawing cat like features on Manjoume's face! HAHAHA! :D :D
But Mr. Mysterious is watching :o Ooooooooh~~!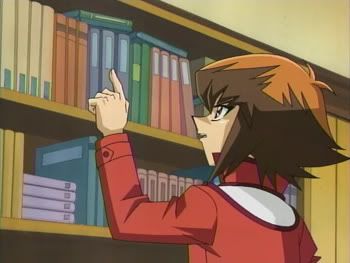 "Human Transmutation.....Human Transmutation for dummies....Human Transmutation for dummies, for dummies..."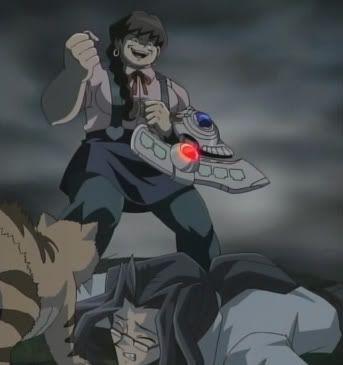 TOME-SAN IS TEH EVIL!!!
"Follow that Transmutation Cirlce!!"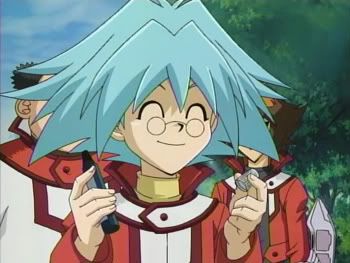 "So how do you like my l33t drawing skillz?"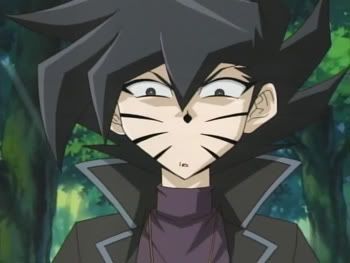 "...nya...?"

Meanwhile Asuka is at the Obelisk Blue dorms when she hears a smash. She runs into a room calling for her brother and sees the room in tatters. She then sees a glowing mark, again, like the one in Chronos' class. She then spots someone running off outside so she peruses him into ze forest where they DUEL!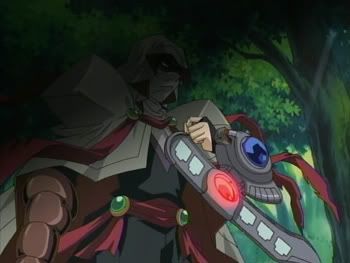 YAY for Mr. Mysterious!

Meanwhile the guys get rained on....by snakes.... XDD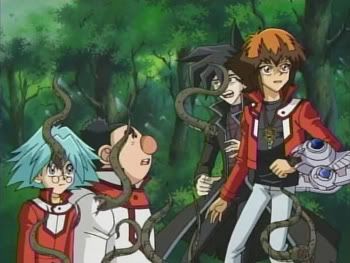 OMG! SNAKES!

Oh yeah and Asuka loses her duel when a neat little meteor shower makes her monster melt, then gets attacked by her opponent's monster. then she's gets trapped in Mr. Mysterious' l33t book of alchemy after her key is taken :D (*Okay that's what I'm calling it and I don't care XP*)


METEOR SHOWER!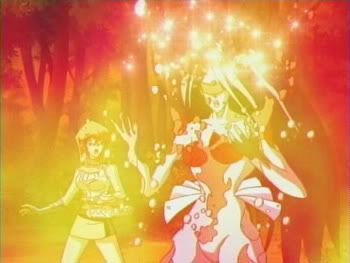 "I'm meeeltiiiiing!!"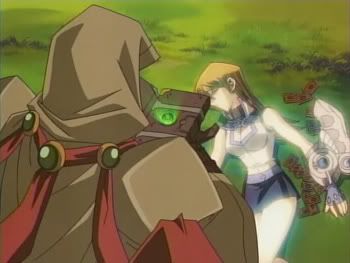 "Welcome to the book of l33t alchemy!"

Back with the guys it's now night and they're sat around the campfire doing some sort of "Remembering Daitokuchi-sensei" thing. That's funny XDD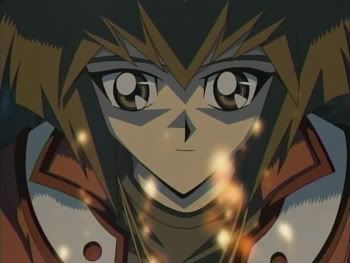 Memories by the campfire....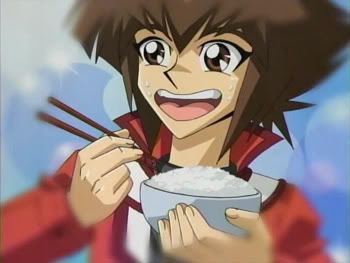 OMG! YAY! FOOD!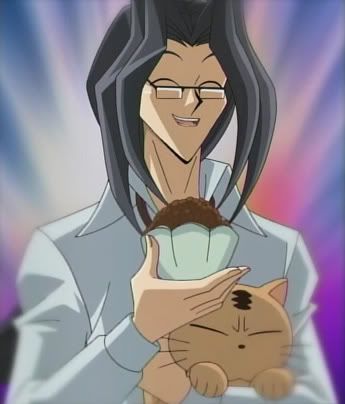 DAITOKUCHI - "Here! Have pharaoh's cat food too, he's not hungry, nya~~!"
JUUDAI - "YAAAAAY!!!"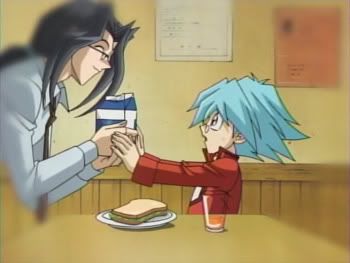 DAITOKUCHI - "But milk will make you grow taller!"
SHOU - "Ewwwww, no way!"

I have no idea what's going on in this scene and maybe I'm best off not knowing XDD;;;

Anyway they go off to continue looking and they start to hear Pharaoh :o OMG! YAY! Manjoume goes a separate way to Juudai and co and he eventually finds the cat, laid by Daitokuchi's glasses and the same mark is glowing there. Manjoume starts walking forward, he finds Daitokuchi's necktie, his shirt and....his PANTS! HAHA! Manjoume's reaction to that was hilarious. "Daitokuchi-sensei no.....pantsu... >>;;;;..." They even have a little picture of Pharaoh on them XD;;;;
Then Manjoume gets to meet Mr. Mysterious and also gets to walk on water! Manjoume is such a l33t ninja! :3
Although Mr. Mysterious is dressed more for the part of a ninja... he even has the little face mask like Kakashi XD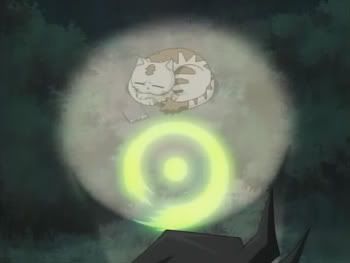 Cats and circles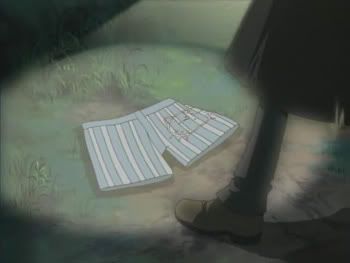 "Hummm what's this?"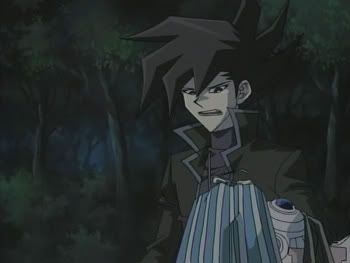 "Daitokuchi-sensei no....pantsu... >>;;;;;"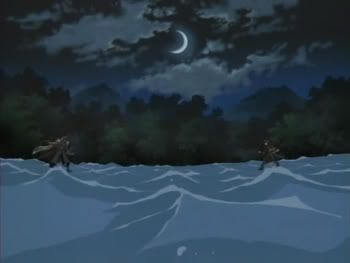 DUEL OF THE l33t NINJAS!!

Ooookay, moving on, Juudai and co finally find Pharaoh and I'm happy cos this might mean Pharaoh won't leave the series, I was kinda worried what the whole "Daitokuchi really being one of the bad guys" meant for everyone's favourite overweight kitty :3 then Juudai's bling yami no item starts shining!
Anyway Manjoume falls to the same fate as Asuka in the same way. The others hear his yell and run to where the duel was only to find Manjoume's cards floating in the water with the glowing mark hanging over them and the Ojama trio all sad "ANIIIKIIIIIIII!!!! ;________;"
And Juudai is all like "MANJOUUUMEEEEEEEEEEEEEEEE!!!!!"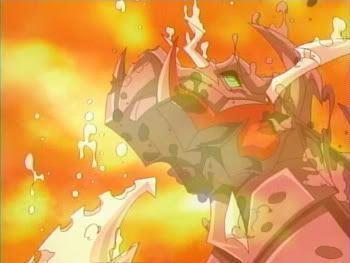 Armed Dragonmon melts away...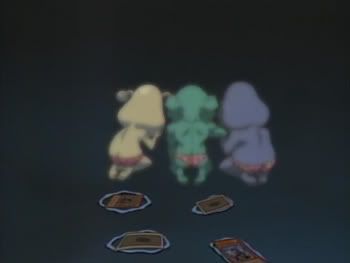 "ANIIIKIIIIIIIII!"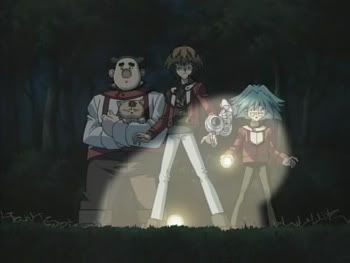 ;________;

Then as some sort of dramatic music starts up we see Mr. Mysterious make a funky light show from his hands that makes two of the slots light up, leaving two remaining...that is....until he puts in the second to last key O_____O There's a light show and the island starts shaking (*Reminds me of my dream actually*) then six beams of light shoot up from the ocean!


Just one more to go!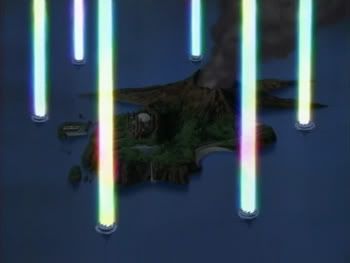 Nifty light show!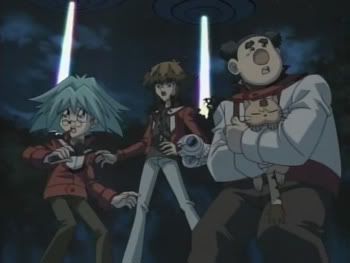 "WE DON'T LIKE THE NIFTY LIGHT SHOW!!!"

OMFG! O______O
So next episode is Juudai VS. Mr. Mysterious...yeah I'm not calling him by his real name...I can't remember how to spell it...Emmuenal? Eh whatever.
So much to parody *___* Hehehehe!

Now I must go and sleep....it's almost 2:30am O_O;;;