Feeling a lot better than I was at the beginning of the week and Christmas, although quiet, has been enjoyable. Dad surprised me by getting me a present this year, a teddy bear :) He's actually been dropping hints about it for the past couple of weeks by telling me that I needed a teddy bear in my rather large collection of plushies XD It's a really soft teddy bear with a little red scarf! So cute!!
Other than that, my friend who's in Germany right now gave me a drawing manga book (based around drawing animals and mythical creatures) and some German chocolate :D Her mum gave me a scarf that's really long and will certainly keep me warm when the weather is cold!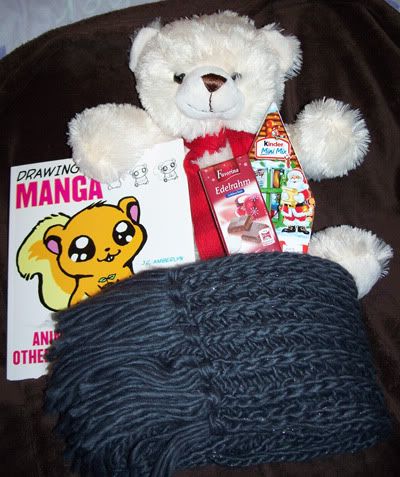 My mum gave me some money a few weeks ago, some from her and some from my Grandad's will, so I'll probably will save most of it, but I do want to get myself a new tablet, since my current one is quite old and rather small, plus the pen keeps playing up. Got my eye on the one I want and will more than likely order one after the new year.
I don't go back to work until Friday, so I have some free time to do things. I wanna spend that drawing things :D
But for now, I need to watch Doctor Who on the BBC iPlayer, since I missed it earlier.
Hope you all had a great Christmas! :)