I feel sick cos I drownded my work sorrows in cookies :D

Yeah the last hour or so there sucked but meh, eating cookies and playing Pokémon Emerald cured me of that ^^ Yep! Thanks to MetalRhynomon I know have Pokémon Emerald!! YAAAAY! So far I have a Mudkip (*Called Kaiser, some of you may know why I chose to call my Mudkip that*) I also have a Lotad called "Lola" and a Ralts called "Reef" :D Took me a while to find that Ralts as well but I love Ralts cos they're adorable X3

Though I think it's funny that Ralts get a very feminine look when they evolve into Kirlia and Gardevoir yet my Ralts is male :D That just amuses me for some reason *lol*

Anyway I might aswell post the GX rambles while I'm here. I'll post them in two seperate posts to save your computer from image overload or something XD



So we start off with...
...Manjoume talking to himself... :D
Ah well we all know he's insane but after this episode I don't think he'll have an ounce of sanity left poor thing XD;;
After making Ojama Yellow cry and trying to swat him, Juudai and Shou appear at his door....well...actually his door is kinda off it's hinges and laying against the wall outside, but still XD;;
Then Juudai and Shou decide to go and bounce on Manjoume's large bed (*With the Pink bedsheets! No, I won't stop mentioning those cos it amuses me for some reason and has done since episode 20*)
Hummm, bouncy, bouncy, bouncy *___* It's hypnotic!
I always got told off when I bounced on my parents bed when I was like....seven XD;; They're so lucky to not have parents around and to have a dorm supervisor who doesn't really seem to care what they do *lol*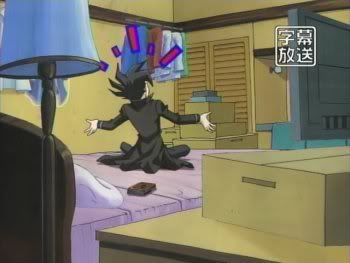 ***Enter manical laughing here***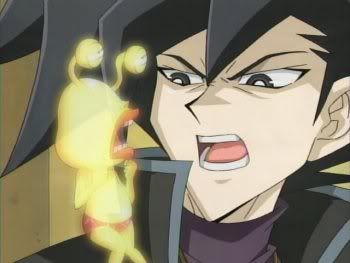 "DON'T touch the coat!"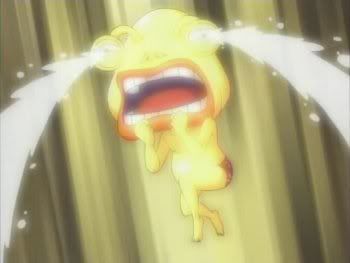 You're meeeeaaaaannnn!!!!11!"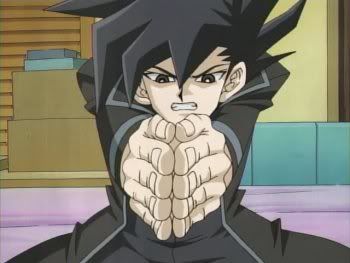 "Drat....I've glued my hands together..."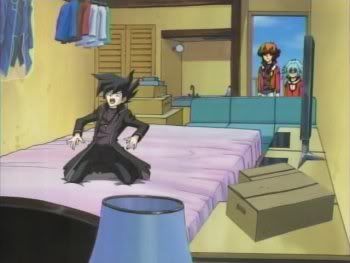 "Whaaaaa!!"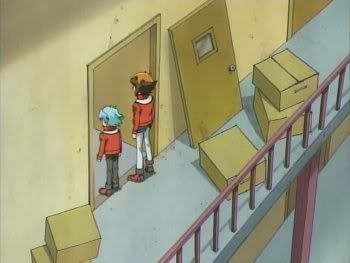 "D00d! j00 gots no door!!"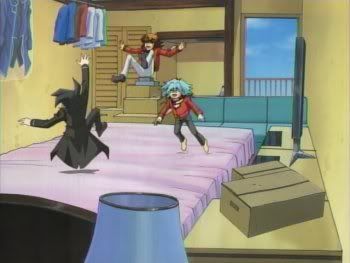 BOUNCE!

After that we take a trip to the Principal's office, which the principal seems to barely leave (*It's true!*) The best thing about this scene for some was the fact that we got to see Kaiba in a flashback thingy! :D Principal also has a huge screen on his wall so he can pretend he's captain of the USS Starship Enterprise talk to people on it *coughs*
Anyway Manjoume's brother's make their wonderful comeback! :D


"You are not worthy to see the front of me....dork..."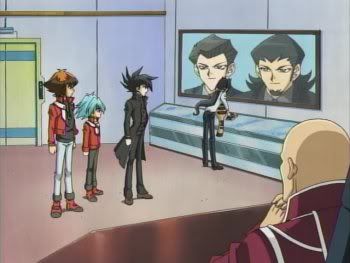 "We are the Borg! Resistance is Futile!"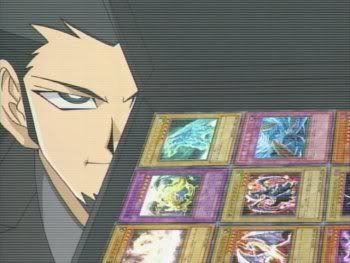 "I have a brifcase full of shiney cards!!"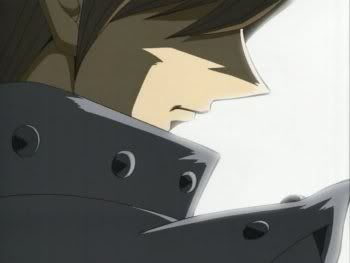 "You are the dorkest dork of them all.... dork..."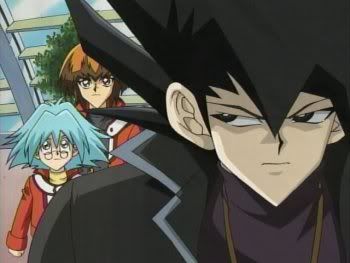 Manjoume: - "Don't make me break your bones in several places...."


All I have to say about the next scene is Daitokuchi looked kinda evil when he was sat on the stairs, talking and stroking Pharaoh XD;;
Whaaaaat? He did... XP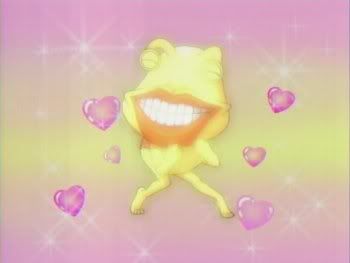 "Aniiikiiii loooooves meeeee!"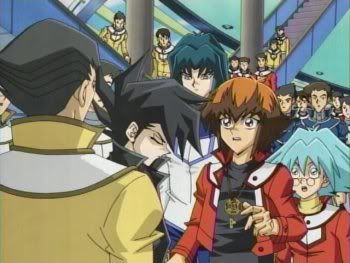 JUUDAI: "Woah! Manjoume! Your hair almost poked my eye out!!"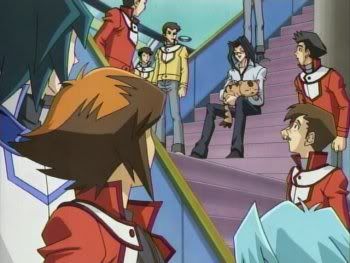 "I've been sat here listening to the whole thing and I want to ask one question...."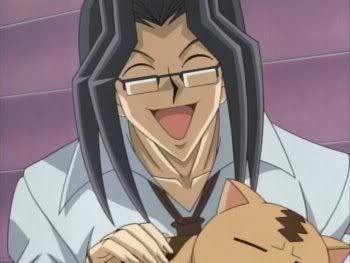 "....anybody want to come back to my house for cookies!?!" >D

Anyway Juudai follows Manjoume out to da woods where they both soon find themselves face to face with some Monster spirits two of which fly straight through them :o Anyway they continue and go down a well thing that has a load of cards on the bottom of it! Here the two of them meet none other than Ojama Yellows missing brothers, Ojama Black and Ojama Green. Ojama Black seems to do most of the talking and Green just tends to repeat him XD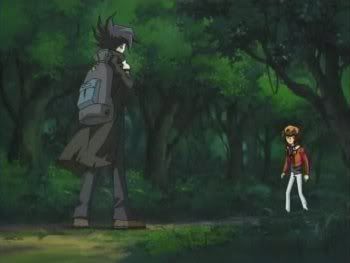 MANJOUME: "Why are you following me!?"
JUUDAI: "I got nothin' better to do"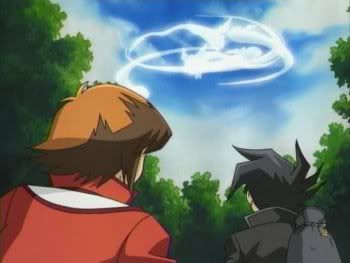 Spooky spirits in da sky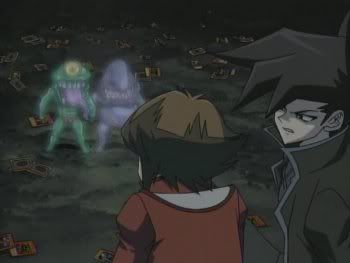 "Urgh, their uglyness is over-whelming!"

And Manjoume manages to make them cry and they only shut up when Ojama Yellow appears. Thus we proceed to a sparkly, flowery, brotherly love scene which totally rivals the sparkly scene they gave Kouji and Kouichi in Digimon Frontier *nods* Awww, but when they start dancing around it's sooooo cute X3 I really love the Ojama Trio, they're so adorable personality wise~~!
The group soon find themselves surrounded by other Duel Monster spirits. Eeee they're all so cute!! Can I keep them!?
The bit where Ojama yellow goes to kiss Manjoume is just so hilarious XD And after he tries to swat Yellow away from his face the other two dive at him *lol*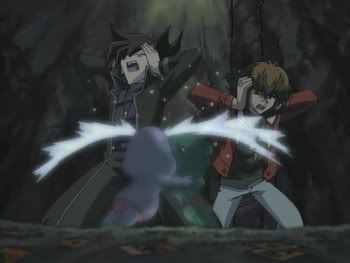 "OUR EARS! OUR EARS!!!"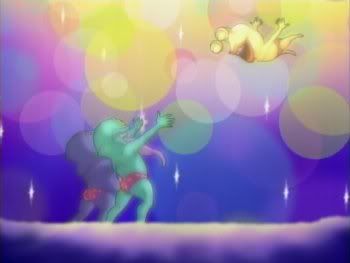 Sparkly brotherly love~~!
"Take us home! Pleaaaaaasssseeeee!! We're house trained!!!"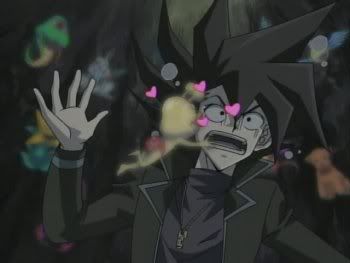 MANJOUME: ARGH! KEEP AWAY!!!!"


Anyway after the crack down the well we skip right to Chosaku and Manjoume preparing for their duel. Chosaku has a deck of monsters that are all shiny and colourful and Manjoume has a deck of monsters all with 0 Attack points :D Wheeeee~!
Chosaku has four huge colourful shiny monsters on his side of the field at one point that is until Manjoume brings out the Ojama Trio. The three of them perform an attack (*Rather bizarrely I must say*) called "Ojama Delta Hurricane" which gets rid of all of Chosaku's monsters XD He then plays a magic card called "Thunder Crush" and it's hilarious that Ojama Black reads off the card and then all three freak out when they realize they have to be sacrificed for the card to work XP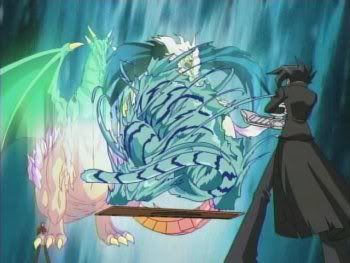 Tiger VS big shiny monster
"Aniki loves us!!!"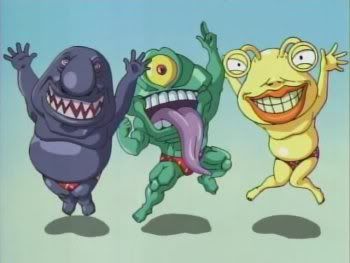 "WE ROCK!!!"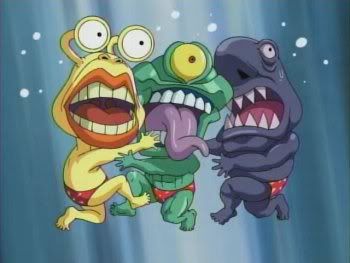 "NOOOOOOOOOOO!"

Then Manjoume summons another monster which seems to gain attack points for all the monsters in his graveyard, thus this monster's attack goes from 0 up to 3300, thus Chosaku is finished XD Then we get the Manjoume Thunder chant YAAAAY!

ICHI! JUU! HYAKU! SEN! MANJOUME THUNDER!!!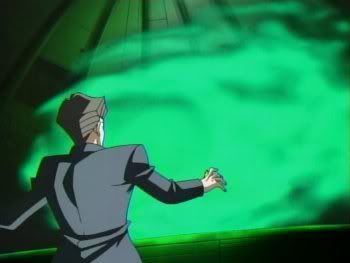 Big ass green cloud
"I'm too cool for you all!"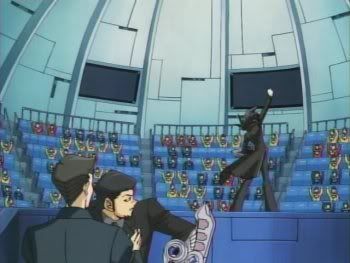 "He's more popular than us....well damn..."

Unfortunatly for Manjoume this whole experience has gotten him a room full of Duel Monster spirit friends now XD Ahahahaha! Sooo cute!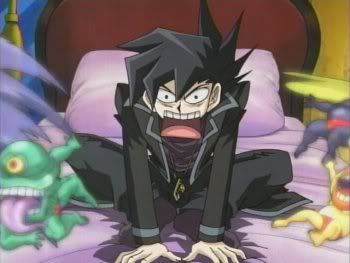 "EVERYONE BE QUIET!!!"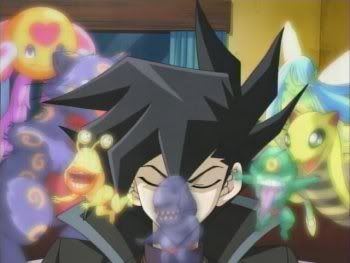 "But we're having fuuuuun~~~!"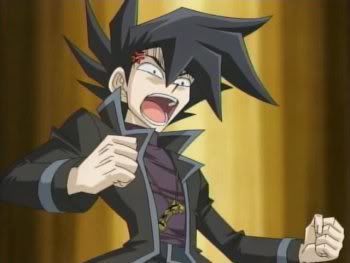 "I DON'T CARE! YOU ARE ALL ANNOYING ME!!!"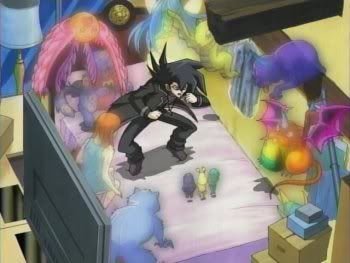 "And keep off my bed..."

Hummm, wouldn't it get drafty not having a door? :/


Ack, my eyes are all stinging and watering XP